Bitumen Sprayer Supplier in India
Vinayak is a pioneer manufacture and supplier of the most versatile Bitumen Sprayer in Ahmedabad, Gujarat. Vinayak manufacture Bitumen sprayer gives uniform unbroken and highly good quality. Vinayak manufacture has highly professional team which construct bitumen sprayer with all safety points to tough and accurate spraying job. Vinayak manufacturer Bitumen sprayer in wide range of 4 tons. It has capacities to available in different model. The unit has a built in heating system with a high capacity burner to heat bitumen to the required temperature. The sprays are supplied with hand lance complete with hose and adjustable nozzle. Bitumen sprayer can be mounted on trucks, small containers depending upon the capacities of tanks. As all construction industry in rural area has now turned towards adoption of new and advanced demand for technology and equipment's as Bitumen Sprayer. Bitumen sprayer distributor is essential machinery for road building.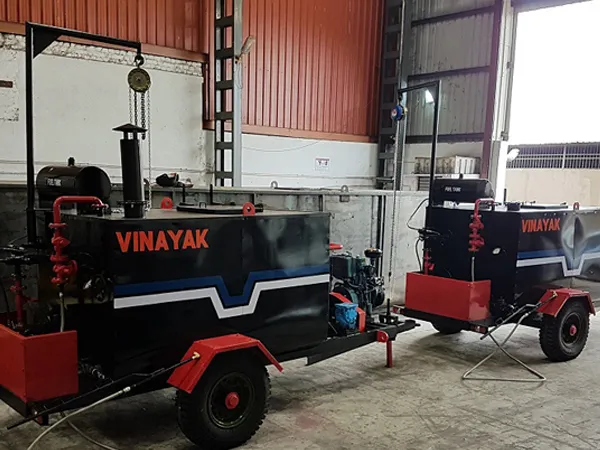 Bitumen sprayer improves the safety and procedure higher quality of surface with enhanced seal life and highly in demand. One unique functionality that bitumen sprayer contains pressure cleaning system (PCS) is a standard which cleans the system after use and avoids clogging at the end of the day because this helps you the next day or at the next job site. The covering is optionally available in wide range of option ranging from Galvanized, Aluminum or stainless steel sheets.
Bitumen sprayer unit comes loaded with a speed detection and driver control system, air compressor, high capacity positive displacement internal gear type asphalt pump, remote control station and barrel heating arrangement.
Vinayak manufacture has confident of this Bitumen spray machine because the quality that we give unparalleled. The parts which are utilized as part to manufacture are exceptionally strong and suited for extreme Indian conditions. Operation and maintenance is easy and does not require talented work.